Frequently Asked Questions
Use this page to view the questions asked the most! Simply click on one of the questions below to find out more…
Hidden
What is the Provider Portal?
The Provider Portal is a platform for you to track your staffs' training certificates and qualifications and motivate your staff to learn and develop with exclusive rewards and discounts.  
You can find out more on the About Us page.  
How do I sign up to the Provider Portal?
How much does it cost to sign up?
Please email info@careprofessional.co.uk to see if your organisation or local authority has signed up to access the Academy. Costings can be discussed if not yet signed up.  
What does the Academy offer me as a Care Provider?
The Providers Portal offers you as an employer the opportunity to incentivise your staff to engage with training and development and create a culture of excellence in your organisation.  
It is a platform for you to identify which individuals training is expiring and monitor and inspect your employees' current accreditations and qualifications. This can facilitate the creation of training plans for your staff to aid their career development. 
Find out more via the Why join? page
What does the Academy offer to my staff?
The learning passport and dedicated online portal are designed to make it easy for care professionals to: 
Track continual professional training and development 

 

Earn points each time they upload a valid certificate to their portal and move up through the 5 tiers

 

Each tier gives them access to rewards in the form of exclusive savings and discounts

 

Easily demonstrate professional qualifications and transferable skills to current and future employers

 

Identify potential career pathways, helping reach career goals

 

Keep up to date with current Adult Social Care news

 
How do I access the Provider Portal?
If you have already signed up to the Care Professional Standards Academy Provider portal, please click on the access your portal button in the top right corner on the website. Please note that only admin users can access your provider portal.  
How long will you hold a copy of the staff members certificates after they leave?
All copies of the profiles will be kept for 6 years from the date they left your employment.  
Will there be training on how to use the portal?
After we have set up your provider portal, we will offer training to your provider portal administrators, and they will receive a 'How To Use' Manual covering every aspect of using the portal.  
We also run a Care Professional Standards Academy support desk that is on hand to help with any problems during business hours. For any queries, email info@careprofessional.co.uk.
Can I remove a certificate if added incorrectly?
How does the Academy help professionalise the care sector?
Studies show that what is important to people working in care is that they feel appreciated and valued.  
The Academy Provider Portal is there to do just that. Incentivise YOUR staff to take their training and skills development seriously and show them that, as their employer, you do too. 
How does the Academy Provider Portal help with CQC inspections?
KLOE's can all be improved with the support of high-quality staff training and tracking.  
The training passport that you can access for each staff member is an easy way to show monitoring officers what training you are giving staff to ensure they are confident in their skills and ability in their job role. 
How does the Academy help with staff morale and appreciation?
The Academy can be used as an attraction tool and as a tool to help you to retain your existing staff and make your staff proud to work in care. 
Help with your recruitment: An employer that rewards their staff for their learning is an attractive prospect. The Academy is something you can put into your job adverts and talk to potential employees about. 
Help with your retention: Value your staff by showing them that you are a professional employer that aids their development and make them proud to work in Adult Social Care.
What does the Provider Portal Dashboard look like?
Below is an example of a portal dashboard. You would have a similar dashboard as an employer where you will be able to see all your staff. When you go through the registration process, you will be offered a short video meeting with an Academy representative to show you how to use all aspects of the portal, from adding affiliates (employees), uploading certificates, supporting your staff to engage with the rewards and discounts and more.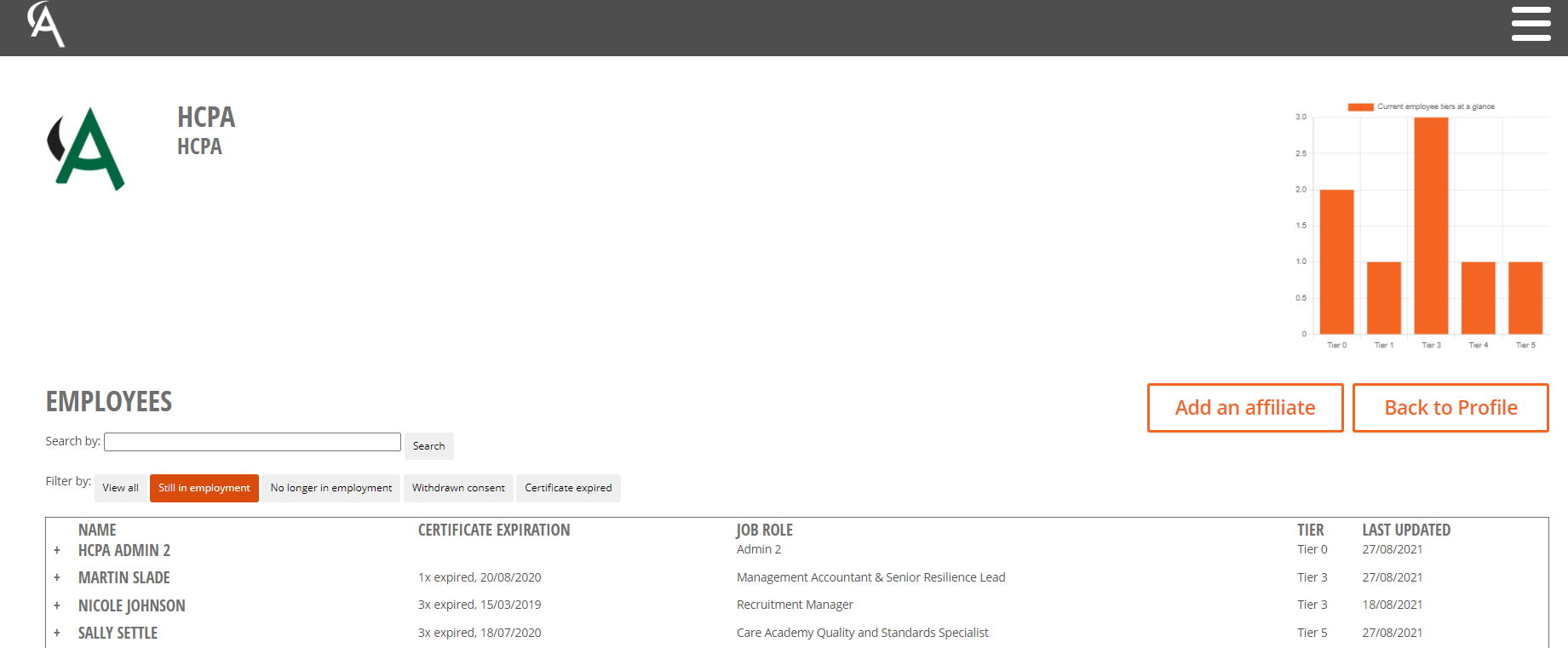 What does the Training Passport look like?